Welcome to Week #1 of our 8-week series on Grace in Awareness
Our intention for this series is to shed some light on self-awareness. We will offer a quiz each week that will invite you to gain insight into your 'self'. Along with the quiz, we'll point you to resources to explore your results; what they mean and how to use that information.
The goal of week #1 is to understand your sleep type and its impact on your time and energy levels.
Let's jump in…
It's no secret that moms are exhausted AND treasure their downtime.
Do you love staying up late to finally enjoy some time to yourself… and then wake up at the latest possible moment feeling exhausted? Do you feel a twinge of guilt because you're not catching the worm with the early birds?
Or maybe you love early mornings for the very same reason – the calm before the storm – and start to drag by 8pm. Let me guess, your stomach twists with anxiety at the thought of keeping up with the night owls.
Perhaps, you're burning the candle at both ends, sleeping erratically and meandering through your day like a zombie. How's that working for you?
Sleep is often the first thing to go when something's gotta give.
By definition, moms have kids. We're on their schedules, meeting their demands, and making little time for anything else – particularly ourselves.
The thing is, we run on empty AND need our downtime BECAUSE of our love and devotion to our family. Yet, we literally lose sleep over it!
Imagine if it didn't have to be such a struggle.
Imagine being able to optimize your time and energy all while fitting in the right amount of sleep when you biologically need it.
You don't have to imagine any longer. Meet The Sleep Doctor…
Dr. Michael Breus, PhD, aka The Sleep Doctor, is a Clinical Psychologist, and sleep specialist. He is also the author of The Power of When: Discover Your Chronotype — and the Best Time to Eat Lunch, Ask for a Raise, Have Sex, Write a Novel, Take Your Meds, and More.
He created a quiz to identify your chronotype and understand your sleep type. Your results will unlock the secret to living in alignment with your personal biological clock.
What is a chronotype?
In an article entitled How to Find your Chronotype to Boost Productivity, the editorial team at Casper.com defines chronotype as "a classification system used to help understand sleep and productivity schedules, including when you're most active and alert throughout the day."
The team adds, "People typically fall into one of four chronotype categories: the bear, the wolf, the lion, and the dolphin. Each chronotype is loosely based on the relative animal's sleep patterns and habits, so let's dive in to discover which chronotype you most closely align with."
Which Chronotype are you? Take the quiz.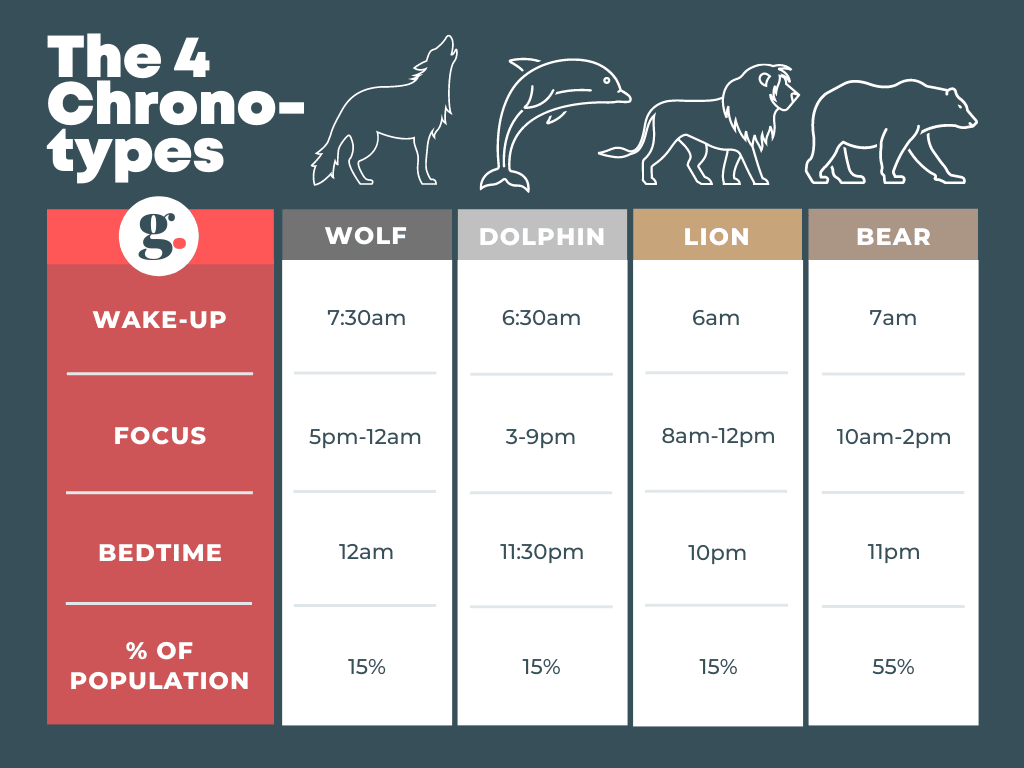 Interesting, go on…
The article goes on to say, "After reviewing the characteristics and attributes of each chronotype, you may feel like you have more questions than answers — and that's okay! It's normal to identify with characteristics of more than one chronotype versus fitting neatly into one. Perhaps you have the late creative surges of a wolf, the late-night ruminations of a dolphin, and the mid-morning focus of a bear. If you want to learn more… we've gathered some resources for you."
Intrigued?
📖 Read the full article: How to Find your Chronotype to Boost Productivity from the Casper Editorial Team.
🎬 Watch this TED Talk given by Dr. Breus for further insight:
🎧 Listen to this podcast interview with Dr. Breus from this week's sleep themed Grace in the Race Podcast Playlist:
---
👩🏽‍💻 Join our Community Call each Friday at 2pm ET in The Grace Lab on Zoom for a discussion on the podcast episode of the week. It's always the first one in the list.
Enter your name and email below and we'll send you a reminder email an hour before we meet.
It will include a link to the podcast episode as well as the Zoom link so you won't have to go searching for them when you'd rather be enjoying a few minutes of downtime.
---
Here's how Amanda and I scored on the Chronotype Quiz and what we're doing with that information…
🦁 Rachel is a Lion.
I wasn't always a lion. I used to pride myself on being a "sleeper-inner." I was probably a wolf in my twenties – staying up late, whooping it up with friends into the wee hours several nights a week.
By my thirties, with the addition of babies, I was more of a wolf. Sleep was a mirage. In my forties, well post-toddlers, I started creating my own schedule and surprised myself by choosing to wake up at 5am. Roar!
Awareness of my Lion type has helped me recognize a few things:
I function best on 8 hours of sleep.
Each morning I wake at 6am (no longer 5am) feeling rested and ready for the day.
I am most creative and productive first thing in the morning.
I can't drink coffee after 10am or it keeps me up at night.
Around 2pm I need a short nap… I've mastered the 15 minute reboot (and it doesn't keep me up at night).
Around 5pm, I get a little boost of energy and use that time to get things done around the house.
By 8pm, I'm done. I don't count on my brain for anything but getting me to bed on time. And if I'm being honest, I have an alarm for that.
I'm in bed by 10pm as often as possible.
Today, I'd still consider myself a Lion but I've amended my lion-ness to add a dose of grace…
There are other factors starting to come into play for me. For example, I've entered perimenopause (TMI? That's life – literally.) Being tired strikes me more frequently and so I welcome it and listen to my body.
These days, I wake at 6am instead of 5am because 5 started getting difficult and it wasn't worth the stress. And, I take naps without the guilt that once accompanied them for feeling lazy.
I prioritize my to-do list so that I do what I need to do when I have the energy to do it, knowing that the items further down the list can wait.
Finally, I don't feel guilty going to bed before my husband and kids. I've set my boundaries with them (communication is so important when it comes to taking care of yourself) and frankly, it's a win-win because they all like me better when I'm rested 😉.
🐻 Amanda is a Bear.
Amanda here…
I am, without a doubt, a Bear. In fact, I could be the poster child for the Bear chronotype.
I rise with the sun and heed the call of sleep with the moon. This gets tricky as the days get shorter, but it works for me so I'm sticking to it!
Like Rachel, awareness of my type has helped me recognize a few things:
I don't have to feel guilty about not getting up at the crack of dawn like those Lions, because I plan!
If I have a daily plan, I can get everything accomplished during daylight hours!
I still consider myself a 'morning person' because I'm most productive when I wake up.
I definitely have an afternoon dip, but it's nothing that a cup of coffee won't cure!

I also start to lose energy for productivity in the evening but I have plenty of brain power left to escape into a TV show!
Though we're two separate animals, when it comes to sleep we both agree that there is something to all of this. Take the quiz and check out the resources above to understand your sleep type. Use it to optimize your time and energy and unload any guilt or stress you feel about not being productive when you're biologically inclined to be otherwise.
Additionally, set boundaries for yourself and communication them to your family. Oh, and speaking of your family, have them take the quiz too. It might be enlightening to discover the animals roaming among you!
One last thought on all of this… have realistic expectations. If you have a newborn, work nights, have a medical condition or something else that prohibits you from fitting neatly into one of these four chronotypes, give yourself grace. The idea is to have awareness of this information and use it to work for you whenever possible.
🤣 And finally, because life is too important to be taken seriously, we leave you with this…
"I don't want to sleep like a baby. I want to sleep like my husband." – One Sleepy Mother
---
At Grace in the Race, our mission is to help moms do what they can with the time, energy and resources they have; all while believing that's enough.