If it's not on the family calendar, it doesn't exist
Does that resonate with you?
It used to be that I could keep things straight in my head. I remembered dates, times and places and used the calendar more so as a back up resource that I'd reference from time to time.
Not anymore.
If there is something happening that I'm meant to be privy to and it is not on my calendar, I could pass a lie detector test swearing that I had no knowledge of said event.
Who done it?
This week I sat down to manage our family calendar in anticipation of the impending back-to-school season. Between two kids with a smattering of activities between them and two parents with busy schedules of our own, I had my work cut out for me.
I was like a crime scene investigator connecting pins with string to solve the family who-what-where-when-why mystery splayed before me.
It was tricky and time consuming but in the end it felt so good to have locked in the calendar for the season.
Having things like sports practices, games, competitions, rehearsals, performances, and the school calendar programmed into my calendar allows me to see what our days/nights will look like.
This, in turn, allows me to strategize the logistics of meal planning, car pools, doctor/dentist appointments, vacations, family-fun, etc. We'll talk more about that next week.
It's worth it
If that all sounds daunting and far less sexy than an episode of CSI, remember this… All the stuff is going to come at you whether you're ready or not and because you're a cape-wielding super mom, you will manage it.
The difference is, a couple hours of planning on the front end of this anxiety-inducing season will give you a shot at keeping your sanity as the season unfolds.
Paper or plastic?
I swear by an online calendar that is shared with my husband and kids.
The ability to import calendars from various organizations and sports teams into my own calendar and share them with respective family members is priceless! It is time-saving and leaves little room for (my) human error.
I also know that digital is not for everyone.
If you swear by the free wall calendar you got in the mail, a handheld day book calendar (hi, Mom) or an industrial sized, minute-by-minute paper calendar (hi, Sister), YOU DO YOU!
If a color-coded white board calendar speaks to you, make it sparkle!
The idea is to get organized in the way that best serves you and your family.
Once you choose your system, take the next step…
Get the whole family to use it.
If you have little ones, meet them on their level and verbally communicate the day's plans and activities. This practice teaches them the value of managing time and helps them anticipate the flow of the day.
If you have older kids, encourage two-way communication by getting them involved in the process.
My teens have started making their own plans that don't involve me; except that they still need me to drive and fund them.
Teaching them to use our shared family calendar has significantly reduced the teen vs. mom drama because they've learned to make plans based on the calendar.
They have also learned to appreciate and protect their unscheduled time; a trait I wish I'd picked up at their age!
Don't just take it from us
Read 7 Tips for Keeping Your Family Calendar Organized by Wendy Wisner. It's a quick read with some valuable reminders – like the importance of scheduling down time!
---
👩🏽‍💻 The Grace Lab
Join us on Fridays, at 2pm ET in The Grace Lab on Zoom for our weekly community call.
We start every call with a podcast chat. Where the conversation goes from there is dictated by the group. The hour flies by and we all head into our weekend with a little more grace.
Listen to the episode on tap for the week found here, then join us on Zoom! The episode is also the first one on the playlist below…
---
🎧 The Podcast Playlist for Busy Moms
Click on the image below to listen to this week's podcast playlist. Remember to 💚 it to save it to your Spotify library so you can chip away at it all week while you sip your coffee, drive, walk, exercise, organize, fold laundry, cook, clean, etc.!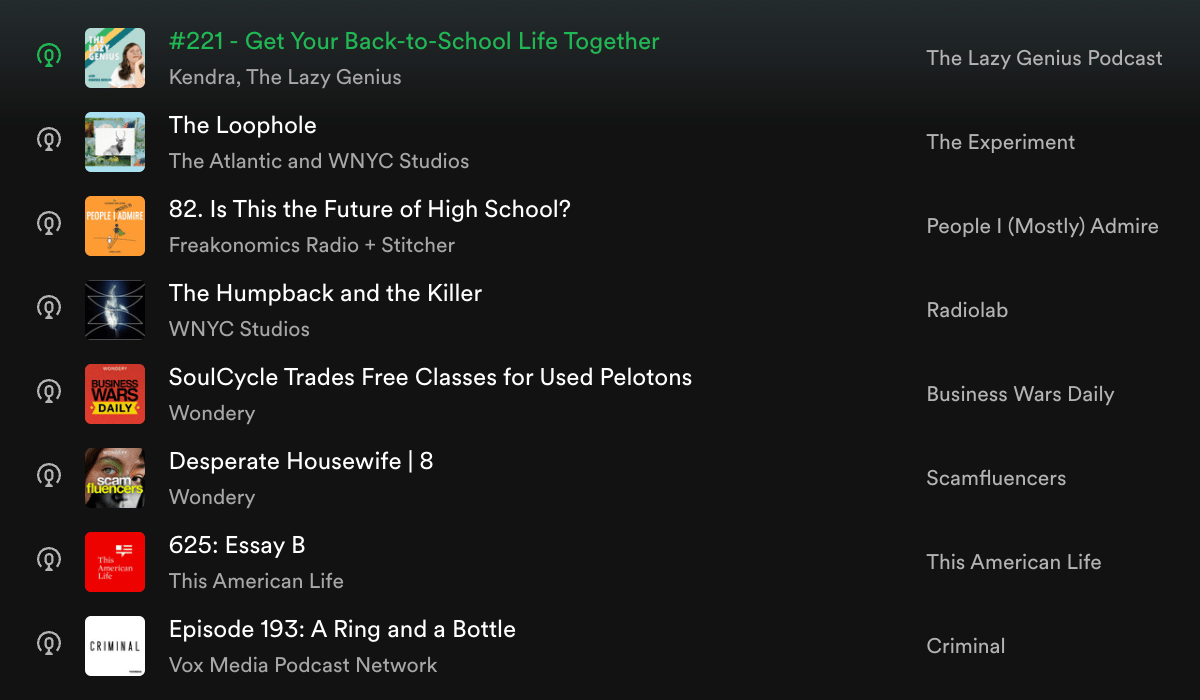 ---
🐝 BIZI: An Online Community for Busy Moms
Question of the Week: Do you use a family calendar and if so, what type and why?
Post your response here in our online community (and/or check out what other moms are posting!)
---
At Grace in the Race, our mission is to help moms do what they can with the time, energy and resources they have; all while believing that's enough.