Happy Halloween
…if you're into that sort of thing.
I am indeed into it and as a result, my husband has gradually softened to it and made his way to the dark side with me over the years.
For me, it's always been a fun thing to look forward to with the costumes and the neighborly-ness. It's one of the few holidays that seems to evoke more smiles than stress.
Here, this will make you giggle…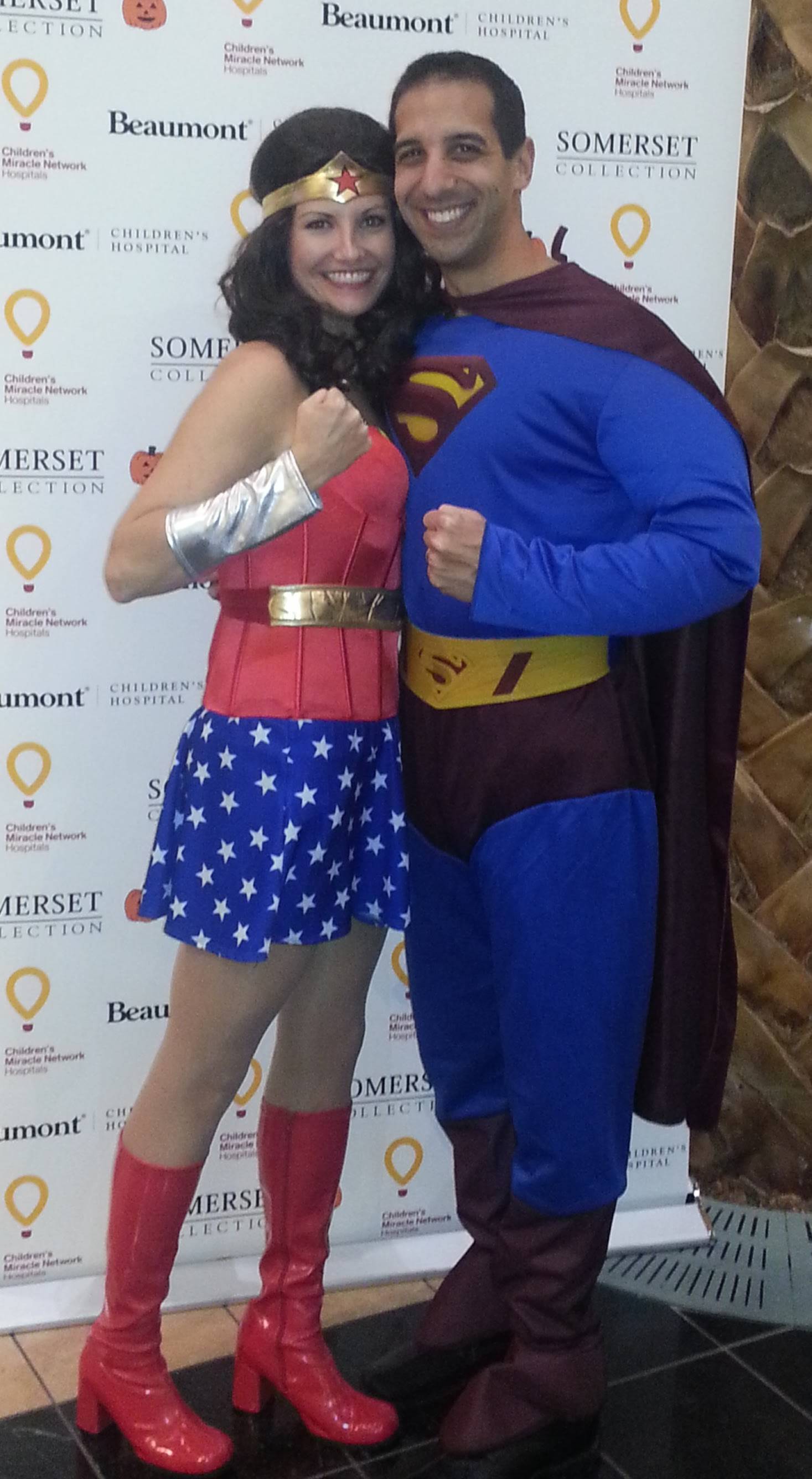 Yep, that's us! Both costumes have gone the distance. One year, I repurposed the wig and headband and passed out candy in my bathrobe. I was Wonder Woman on her day off. So much fun!
Ah, but I know not everyone is into it… Halloween is sometimes associated with, well, the actual dark side.
I obviously choose to see the good in it and happily avoid any evil. But that got me thinking about how things come to have such an association. And that, in turn, gave me pause…
Pause and Power
If you read my editorial last week, you know I'm working to get better at the "pregnant pause". (You can read it here, in case you missed it.)
Following said pause, here's where my thought process led me…
In order for a negative association to have any validity – be it the dark side, evil, Gozer the Gozerian – we have to GIVE it power. We have to willingly fuel its fire.
For example, one must manifest the evil Stay-Puft Marshmallow Man as seen in this clip from the 1984 classic, Ghostbusters. Please be warned, as did many of the greats of the 80's, this PG clip contains adult language.
What's holding you back? If we simply heed the advice of Dr. Peter Venkman and don't invite the "evil" into our minds, we retain the power to invalidate negativity. When we do this, we instead manifest positivity.
Are You Chicken?
If we look at a toddler dressed as a chicken and associate it with something negative, or evil, we're opening the door and inviting that negative energy into the party, where it never had to exist. And frankly, evil at a costume party sounds like a recipe for disaster.
On the other hand, if we see the same little chicken and it warms our hearts, the energy we associate with it is positive. We've made no room for any negative energy to do it's dirty work, rendering it powerless and bidding it adieu. Party on!
All-day, every day, we're faced with the decision whether or not to invite negativity into our lives. When we do invite it in, it gets wired into our own inner struggle known as our limiting beliefs.
We tend to believe the story we tell ourselves – for better or for worse – so it's time to stop feeding the struggle. It's time to get out of our own way and tell a new story.
What's holding you back?
So What's holding you back? Over the next 8 weeks, we will work to figure that out. We're working to finish this "evil" year strong so we can take on 2021 as the best version of ourselves.
We're doing this work in GraceX: The Grace Experiment. Specifically, we'll be introducing one core habit each Friday, at 1 pm ET in the Grace Lab on Zoom – and you're invited!! (CLICK HERE TO RSVP). The Grace Lab is always recorded so if you can't be there live, you can catch the replay (but you'll still have to RSVP for access).
With each week, we'll explore one small shift that has the power to make a huge impact on our lives. We'll develop positive habits that deconstruct our limiting beliefs to provide us with the mental toolset to get our ship together. Could you benefit from a habit overhaul?
If 2020 owned you, JOIN US and take back the reins! … Unless you're chicken.
---
This editorial came from our weekly newsletter. Click the button below to read the full issue.
Get our newsletter: GIRLetter delivered to your inbox every Saturday. Click the button below to subscribe.
Looking to get in community with like-minded mamas? Join our MotherHood Circle – our virtual neighborhood!